A Historic San Francisco Hotel
Opulent and historic, Hotel Whitcomb is located on Market Street and showcases the stunning décor of early 20th-century San Francisco.
Our central location provides easy access to trendy SoMa and Hayes Valley restaurants, shops, and attractions, as well as the Financial District, Union Square and Nob Hill. Find out why our hospitality and urban convenience are favorites among travelers.
Hotel Whitcomb is ADA compliant under the Department of Justice ADA Title III Regulation 28 CFR Part 36, 1991. For information about accessible features, please view our Accessibility Statement .
High-Speed WiFi
Concierge
On-Site Parking
Luggage storage
ADA rooms and suites
Dry cleaning/laundry service
Accessible Fitness center
Accessible Business center
Meeting/banquet facilities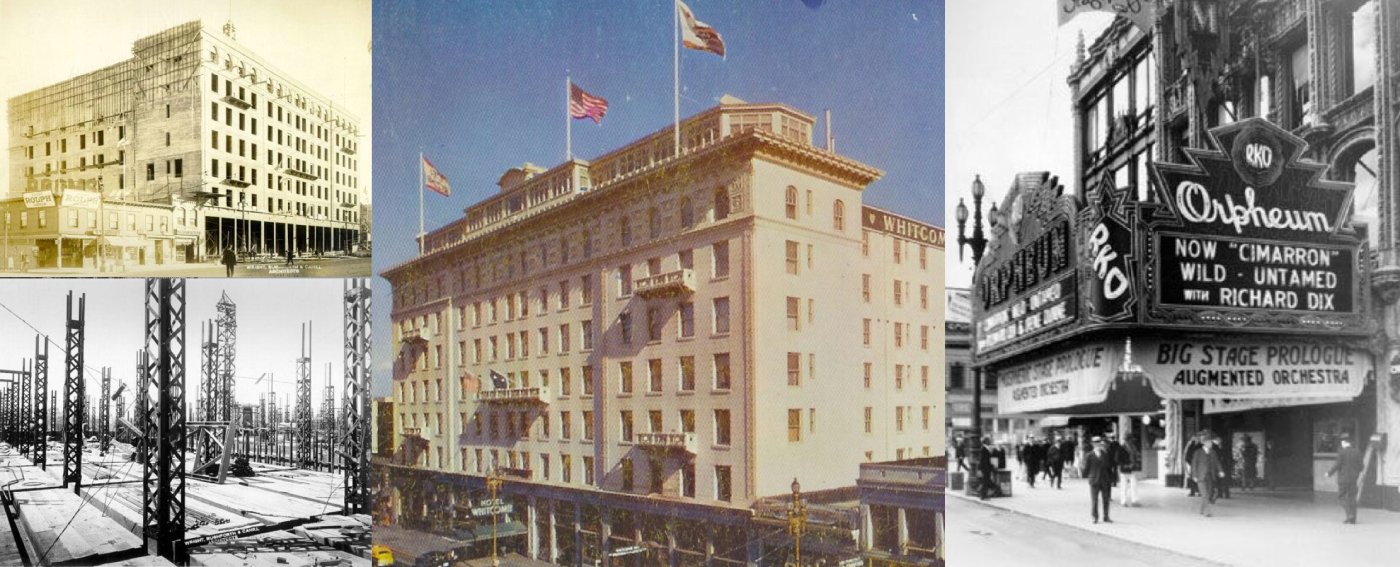 Experience a Part of San Francisco History
The brainchild of architects Wright, Rushforth and Cahill, the Hotel Whitcomb was intended to pay homage to a city overturned by the great earthquake of 1906. The hotel would be a symbol of San Francisco's resilience and echo the graciousness of the turn-of-the-century town, with its Austrian crystal chandeliers, beautiful marble, Tiffany stained glass and rare Janesero paneling.

Long-intended as an elegant San Francisco hotel, the proposed site of the Hotel Whitcomb attracted the attention of city leaders who needed a temporary City Hall while the original was being rebuilt. Inspired by a sense of civic pride, the Whitcomb Estate agreed to have their hotel used as City Hall. From 1912 to 1915, Hotel Whitcomb served as the seat of government for San Francisco.

Although the building ceased operations as City Hall in 1915, the words "City Hall" could still be seen faintly etched above the main entrance until the mid 1990s. The mayor's office, once located on the mezzanine level, now serves as the administrative office. Guests stay on the remaining floors of the hotel that were once occupied by other government officials, including judges for the Superior Court. Remnants of the original jail cells are still intact in the basement of the hotel and used as storage rooms today.

Hotel Whitcomb officially opened its doors in 1916. Right from the start, the hotel was the place to see and be seen, bringing together la crème de la crème. Concerts were broadcast nationwide from the Whitcomb Ballroom, and the grand hotel still boasts one of the largest parquet dance floors in the city.

Through the years, Hotel Whitcomb has undergone various renovations and upgrades to maintain its level of elegance and charm, while remaining true to the gracious traditions that embody its spirit of San Francisco hospitality and community. Today, Hotel Whitcomb continues to celebrate its uniquely Victorian style that is sublimely refreshing to the soul.
A Historic San Francisco Hotel